最近在 Porting 一段代码的时候有使用到 fread(),但是非常奇怪的是一直无法正常工作,得到的错误返回值一直为0。后来在网上找到Robins_Lee 的文章提到了这个问题https://blog.csdn.net/mini92/article/details/79274823。原来新的EDK2中,需要在INF [LibraryClasses] 中加入 DevShell 才行。
对于这个要求在 \StdLib\ReadMe.txt 有描述如下:
Figure 5: Package Build Options
===============================
INF Files
=========
The INF files for most modules will not require special directives in order to
support the Standard Libraries. The two sections which require attention: LibraryClasses
and BuildOptions, are described below.
[LibraryClasses]
UefiLib
LibC
LibString
LibStdio
DevShell
Figure 6: Module Library Classes
================================
Modules of type UEFI_APPLICATION that perform file I/O must include library
class DevShell. Including this library class will allow file operations to be
handled by the UEFI Shell. Without this class, only Console I/O is supported.
An application's INF file might need to include a [BuildOptions] section
specifying additional compiler and linker flags necessary to allow the
application to be built. Usually, this section is not needed. When building
code from external sources, though, it may be necessary to disable some
warnings or enable/disable some compiler features.
[BuildOptions]
INTEL:*_*_*_CC_FLAGS = /Qdiag-disable:181,186
MSFT:*_*_*_CC_FLAGS = /Oi- /wd4018 /wd4131
GCC:*_*_IPF_SYMRENAME_FLAGS = --redefine-syms=Rename.txt
编写测试代码:
#include <uefi.h>
#include <Library/UefiLib.h>

#include<stdio.h>
#include<string.h>
#include<stdlib.h>
#include <errno.h>
#include<wchar.h>

int
main (
  IN int Argc,
  IN char *Argv[]
  )
{
	FILE *fd;
	char text[100];
        
	if (Argc<2) {
		printf("Please input filename\n");
		exit(1);
	}
	if ((fd = fopen(Argv[1], "rb")) == NULL)
	{
		printf("open file failed. %s\n", strerror(errno));
		exit(1);
	}
	memset(text,0,sizeof(text));
	fread(text, sizeof(char), 100, fd);
	printf("%s\n", text);
	fclose(fd);

	return 0;
}

[Defines]
  INF_VERSION                    = 0x00010006
  BASE_NAME                      = fot
  FILE_GUID                      = 4ea97c46-0995-4dfd-b442-747010f3ce5f
  MODULE_TYPE                    = UEFI_APPLICATION
  VERSION_STRING                 = 0.1
  ENTRY_POINT                    = ShellCEntryLib

#
#  VALID_ARCHITECTURES           = IA32 X64
#

[Sources]
  fopentest.c

[Packages]
  StdLib/StdLib.dec
  MdePkg/MdePkg.dec
  ShellPkg/ShellPkg.dec

[LibraryClasses]
  LibC
  LibStdio
  UefiLib
  DevShell
运行结果: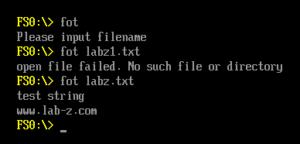 完整代码:
fopentest